Corey Taylor and Alicia Dove Wedding Reception
Welcome to my blog, SO Much to talk about I'm just going to be talking forever lol.
So I guess I'll start with some recent 2019 things:
My friends Corey and Alicia Taylor as you know were married recently, the reception was at their amazing home and was nothing short of incredible. Great friends there and some overdue catching up. Catered food and open bar although I don't drink there were a lot of pretty colored bottles lol.
Had great times catching up with good friends like Roy Mayorga of Stone Sour who I managed in Medication, Kyle Sanders who I used to manage in the band Skrew, Lajon Witherspoon of Sevendust and several more.
I brought my friend Groovey Newville and his kitten "Hug Life" t-shirt was one of the highlights of the party garnishing many compliments and chuckles with the party goers.
The house was decorated so beautifully that it seemed like a movie set it was so nice. Corey and Alicia you can tell although have been together for a while we're all night touching and staring at each other with so much love we felt like maybe we were all intruding hahaaa LoL.
Such gracious hosts they spent most of the night being social and connecting with all of us throughout the evening. Halfway through the night Corey and Alicia offered up a toast expressing their gratitude for us coming and spending such a personal and happy time in their Lives with them and that we here at their home are there closest friends and that's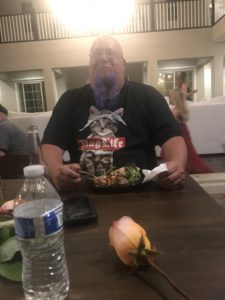 Why we were invited, it was very emotional and fuzzy ️.
I did post many pics on my FB and Instagram of the Amazing evening.
The next day there was a Great reception buffet at one of the hotels, I'm a BIG buffet guy and it was YUMMY hahaaaa, I took a few minutes from grazing and ducked away to don my "Jack Skellington" onesie for the rest of the get together lol. Photo also on my FB and Instagram, Unless I can figure out how to post them here lol.
Well that's about all for now, I'll be writing more soon and if you have anything you want to ask me I'll try to answer the best I can.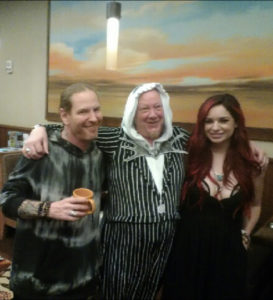 https://musicgalleryinternational.com/wp-content/uploads/2020/01/shawnbarusch_coreytaylor.png
1447
1125
Zuluflipper
https://musicgalleryinternational.com/wp-content/uploads/2016/10/musicgalleryinternational-1.png
Zuluflipper
2020-01-08 14:18:07
2020-01-11 17:47:34
Corey Taylor and Alicia Dove Wedding Reception